The composite molecular pump instead of the oil diffusion pump for all-glass vacuum tube solar vacuum exhaust exhaust pumping high vacuum test. Selected three types of molecular pump, the collector tube automatically continuous baking exhaust line experiment. After about one year longer production run test, the molecular pump suffered more than 190 times the heat pipe nozzle rupture caused by atmospheric impact, there is no damage, no significant changes in vacuum performance.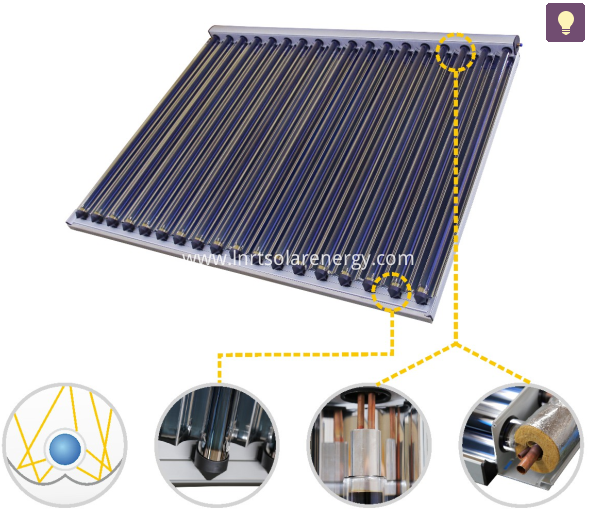 Solar Water Heater collector tube life is usually 20 years, during the operation of the collector tube temperature of about 50 ℃ ~ 80 ℃, collector tube itself deflated, so that the inner and outer glass tube between the vacuum gradually decreased. In the course of 20 years of use, the heat conduction loss of the gas in the heat pipe sandwich is much less than the heat radiation loss, for example, the heat conduction heat loss is less than 10% of the total heat loss.
Using high-temperature baking vacuum method, to obtain a long-term heat pipe to maintain high vacuum performance This work in the company's production of automatic collector tube continuous baking exhaust line.
Domestic heat pipe baking exhaust production process are used oil diffusion pump pumping high vacuum, the experiment uses a composite molecular pump to replace the vent line on the crude oil diffusion pump pumped high vacuum.
Compared with the oil diffusion pump, the molecular pump itself has no oil, the water molecule pumping speed long time stability, energy saving and so on. In addition, the molecular pump runs reliably and requires little maintenance for a long period of time, such as two years of production.
However, the molecular pump by the atmospheric impact of poor performance, the price is more expensive. 1, experiment In this experiment, a composite molecular pump instead of the oil diffusion pump pumping high vacuum, continuous automatic exhaust pipe in the heat pipe. The exhaust line is equipped with 42 trolleys loaded with roasted exhaust manifolds and 40 collector tubes per trolley.
The exhaust air line operates at a transmission speed of about 0.80 m / min. Each trolley runs 12 furnaces a day, Exhaust air line operation day baking exhaust manifold 20000. Baking exhaust process temperature 450 ℃, baking time 40 min. Venting trolley schematic diagram shown in Figure